How to create a basic social media design in Canva
Canva is a powerful tool that you can use to add to your marketing capabilities. It is fairly straightforward to use, even for a novice, and as you become more experienced, your designs and corresponding messages will also reflect this.
Step 1 – Sign into Canva (or Register)
You will be prompted to register if this is your first time using Canva. You can use your existing Google or Facebook account to create a profile or create one from scratch by clicking "Sign up" in the upper right-hand of the screen.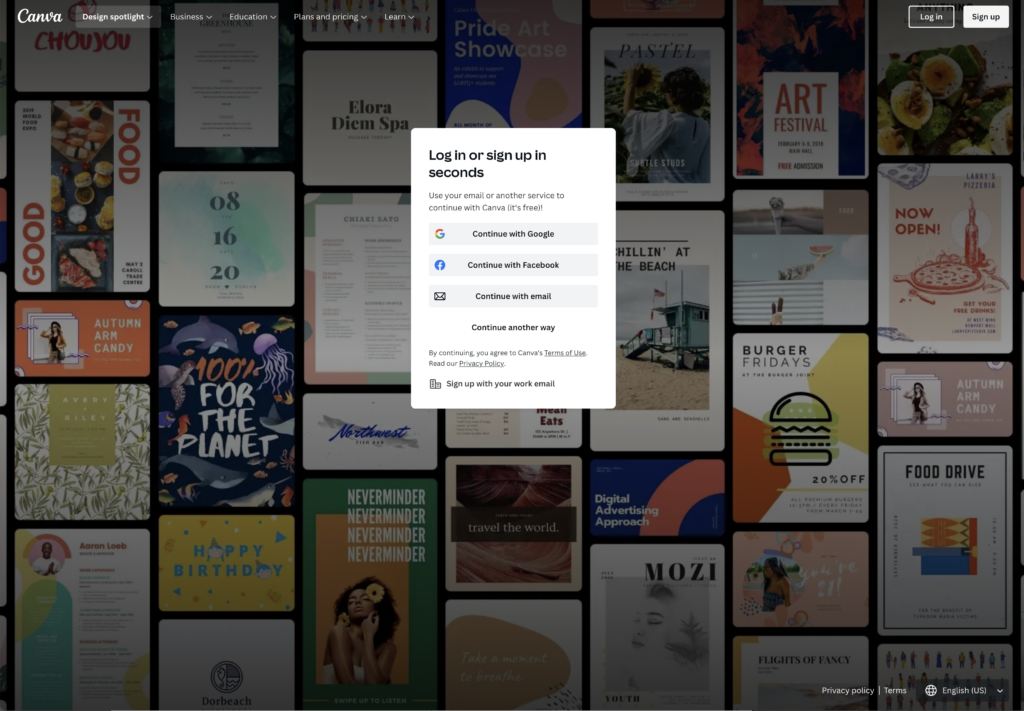 You will see that Canva already has perfectly sized templates for Facebook, Instagram, banners, flyers, gift certificates, and more. As long as it is a blank template, you can use this for the proper dimensions. You can look through some of the available templates to get inspiration for what to include on your own template.
Now that you have your blank canvas, it is time to start designing. Keep a few things in mind:
Keep it simple. Don't over use too many design elements. This will result in a template that is too busy and does not focus on the image or content of the story. In this example, we will introduce many design tips on one template, you do not have to use them all on one. 
Stick to a color palette (3 to 5 colors that you can use across multiple templates to keep your bundle cohesive)You do not have to use each color on all your templates but two of them should be consistent throughout all of them, other colors can be incorporated as pops of colors. 
Know what types of templates you will create. We will be walking through designing one template: a standard image and text story. Some template ideas you can create include: a standard image and text template, a this/that template, quote template, selfie template, plain text template that can be used for polls, questions, and more. Feel free to create more once you get a handle on the basics.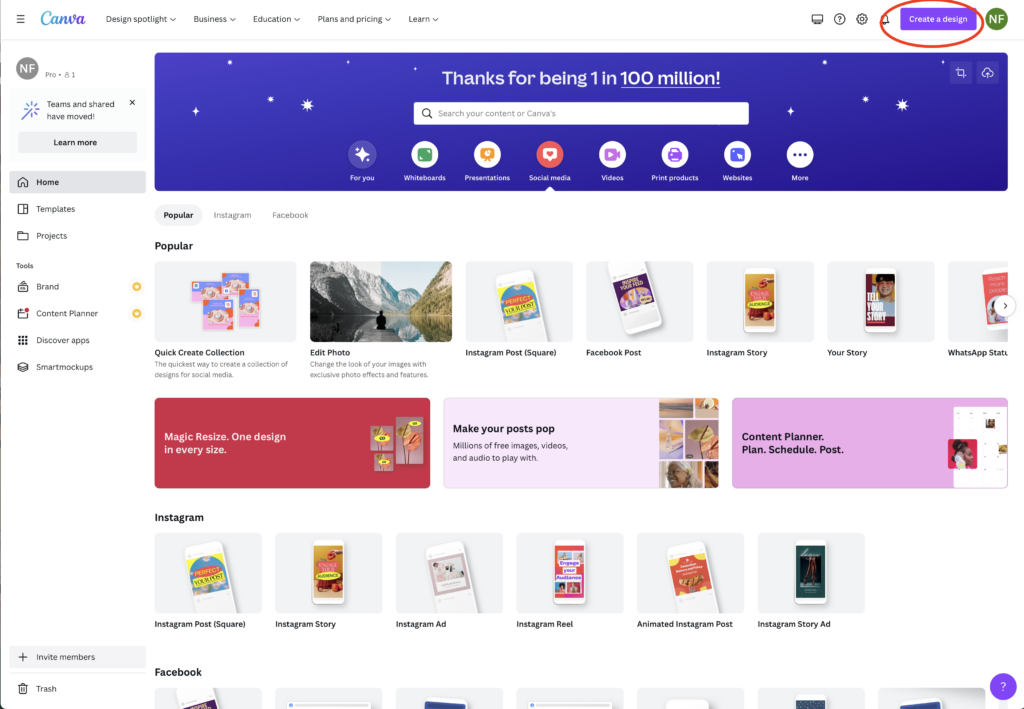 To create a design, click the "Create a design" button in the top right corner of the page.
Step 2 – Choose Your Background
Your background can be a solid color, pattern, or image. To upload your own image to use, click on the upload option on the left side panel. If you have your own textured or pattern design you want to use you can upload that as well. For this example, we will choose a solid color and add shapes and elements to make it more unique.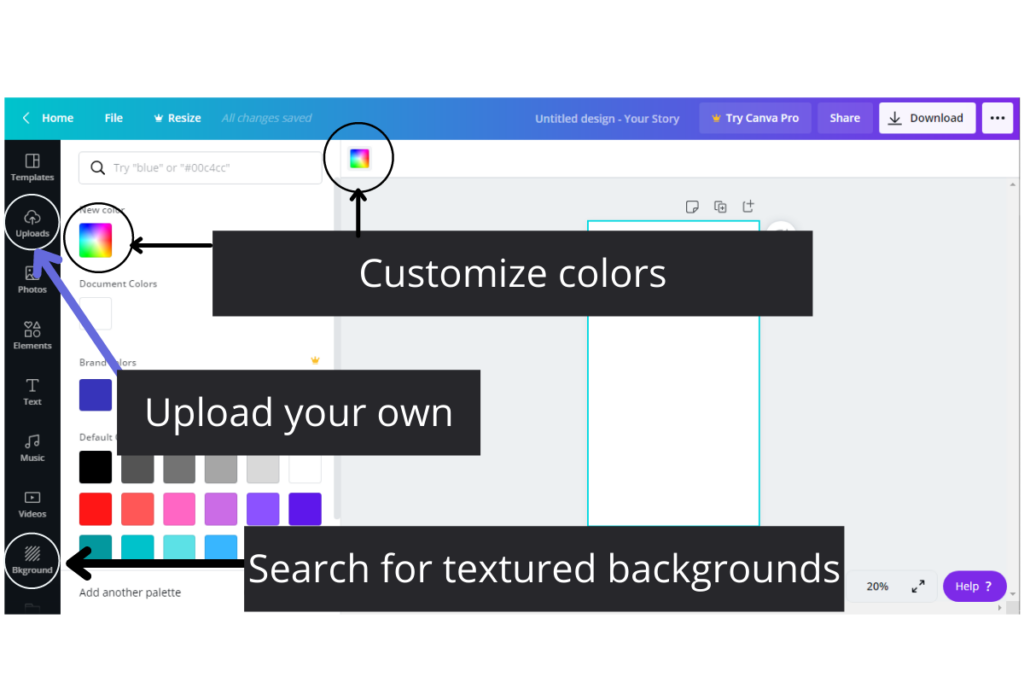 You can choose a default color or customize the color. The colors you use will display under the document colors in the color panel so you can easily use them for your other templates.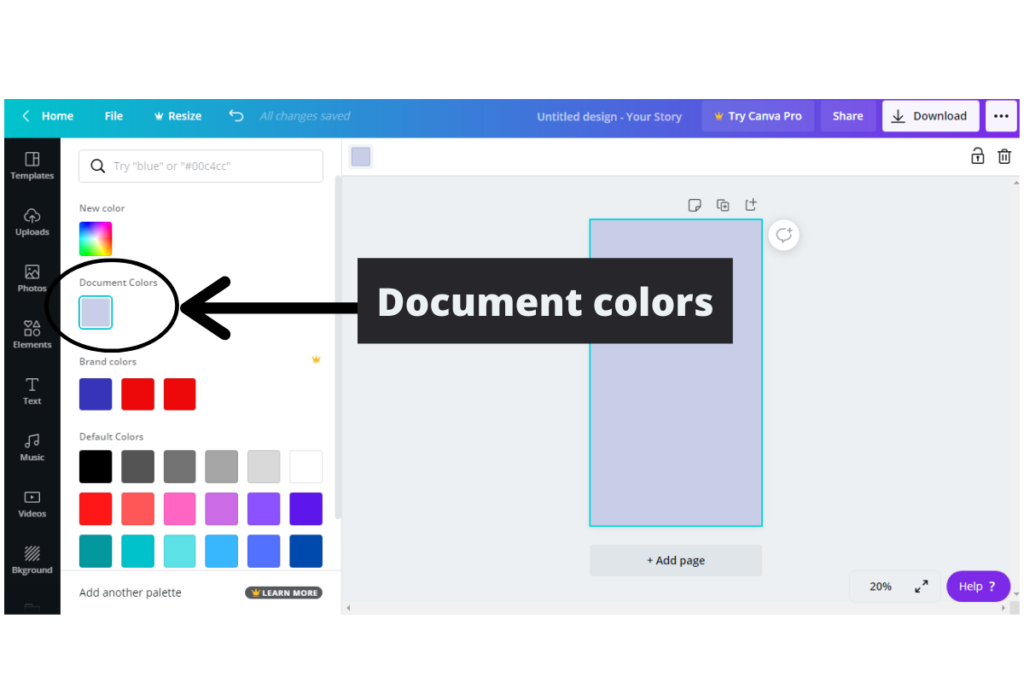 Once you have chosen your color you can add additional elements by clicking on the elements option on the side panel. Here you will see several categories from lines and shapes to frames and stickers and vector art. For this example, we are going to stick with the shapes. Scroll through to see the various ones they have for free. When you find one to use just click on it.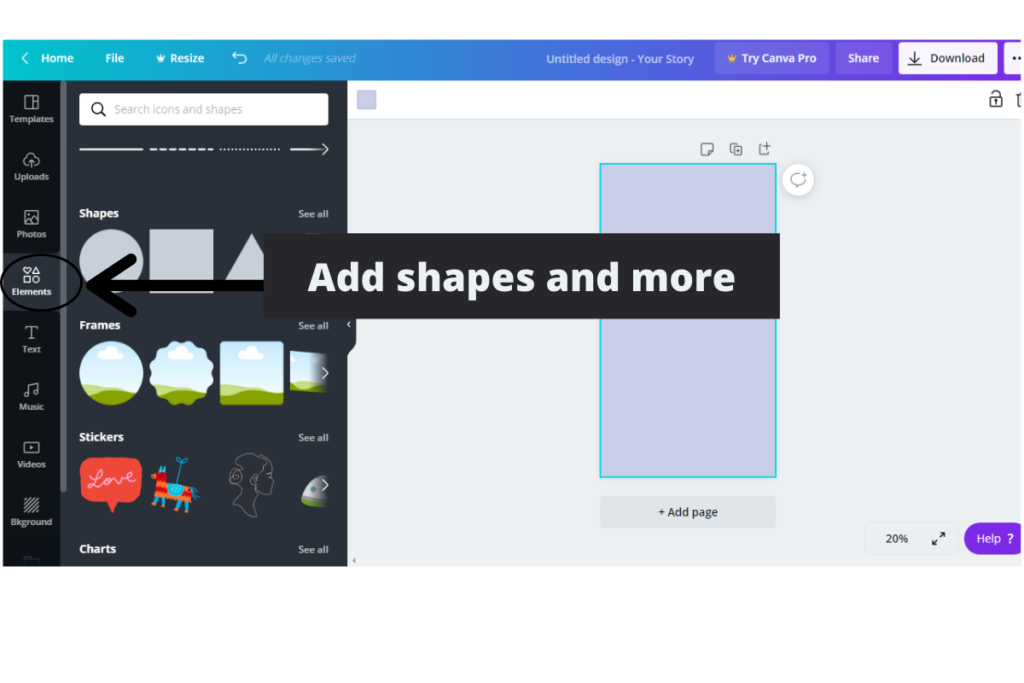 You will notice each shape also has colors you can customize, you can do this by clicking on the color you want to change from the top of the canvas.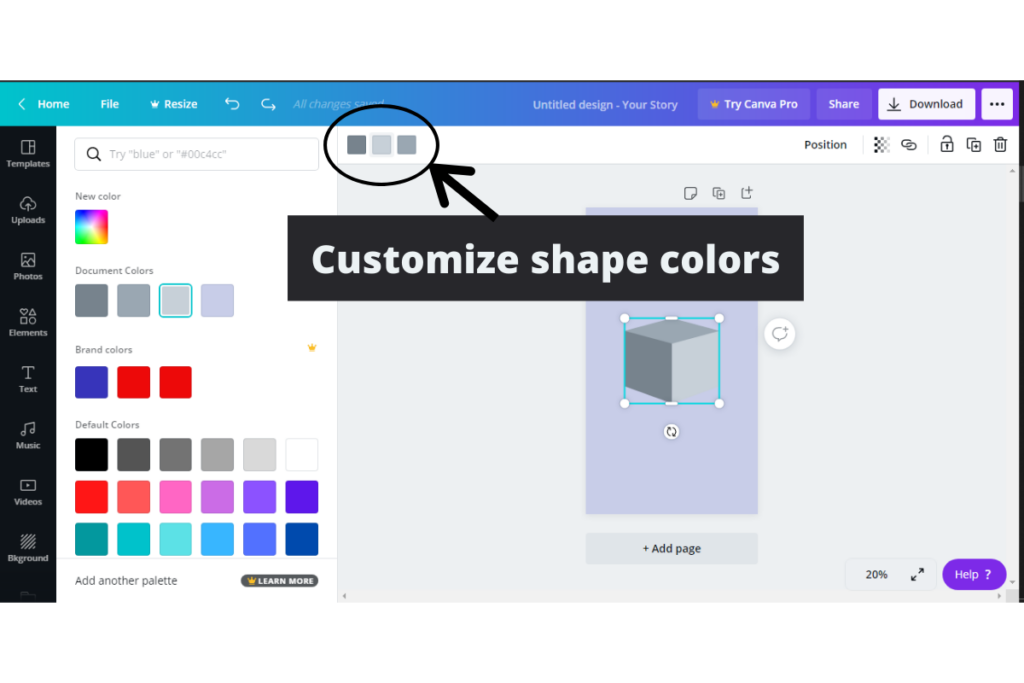 You can also change the transparency by clicking on the checker design from the top panel. If you want to duplicate your shapes, or any other element click on the icon with the "+" symbol. You can rotate and change the size of the elements by clicking on it and using the icons around the shapes.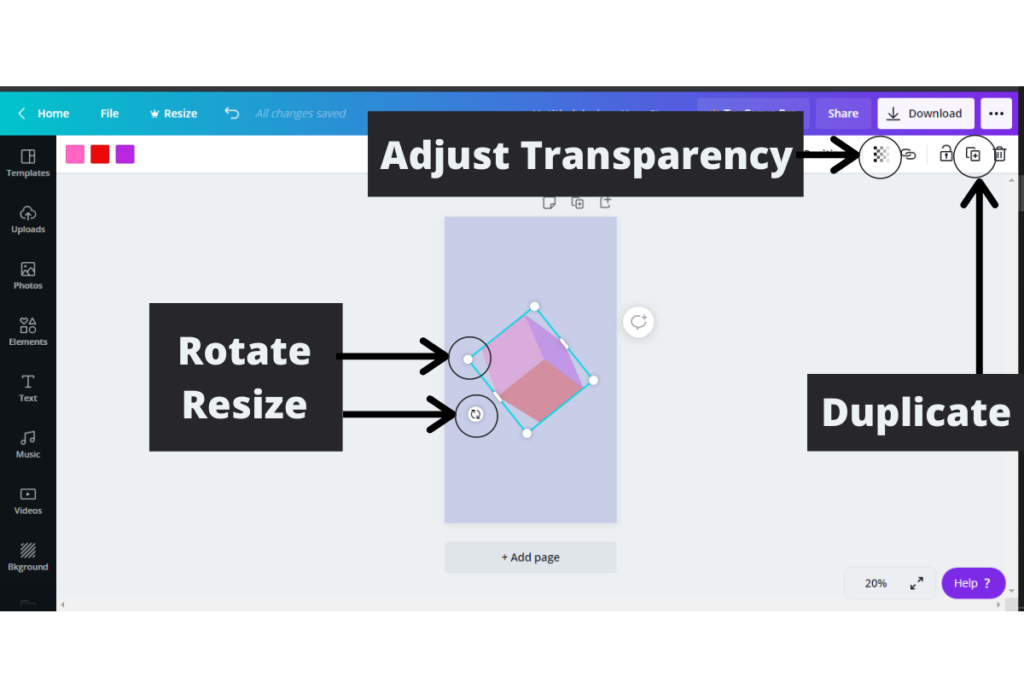 Step 3 – Add a frame.
Frames act as a digital "picture frame" for your images. They contain the image within the parameters of the frame you select. You can add a frame into your template so that you can easily edit and add to these as you see fit. These are located under the elements option on the left panel. Upload a sample image to include in your design. You can upload your own images and graphics to use as well.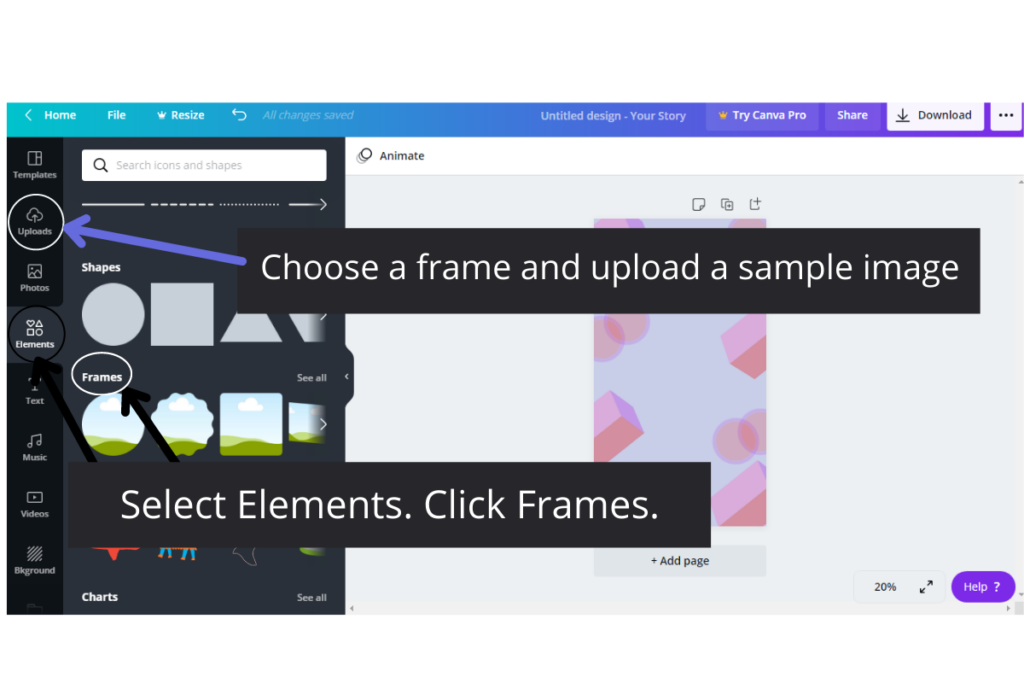 Step 4 – Add Text
Add a sample text by clicking on the text option form the side panel. Click on add heading to add.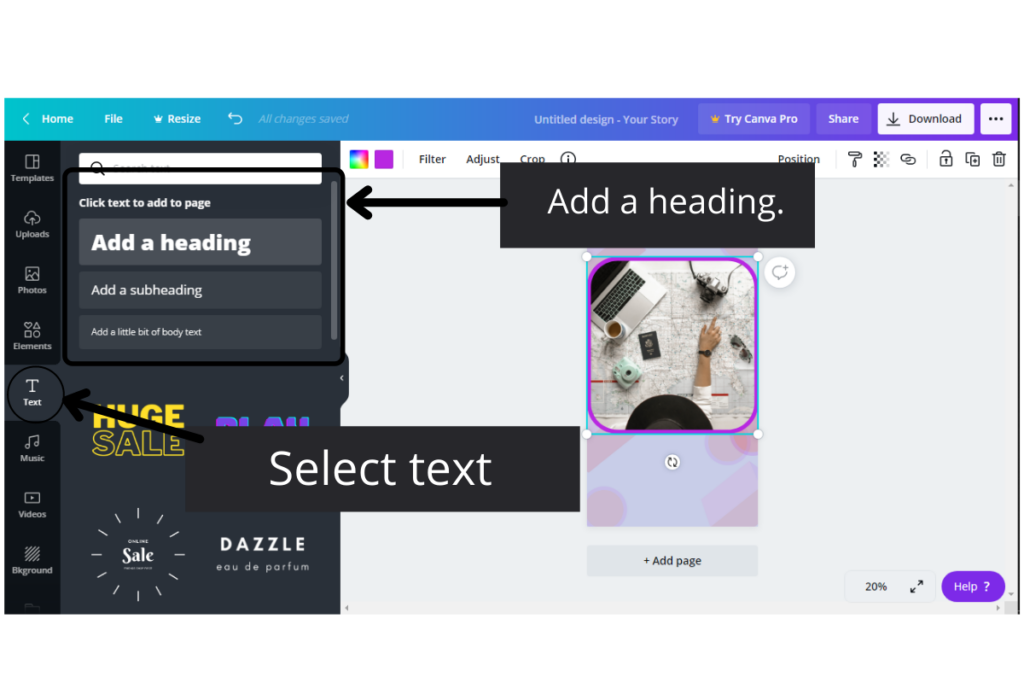 Replace the text by clicking on the text box in the image. Customize the text from the top panel.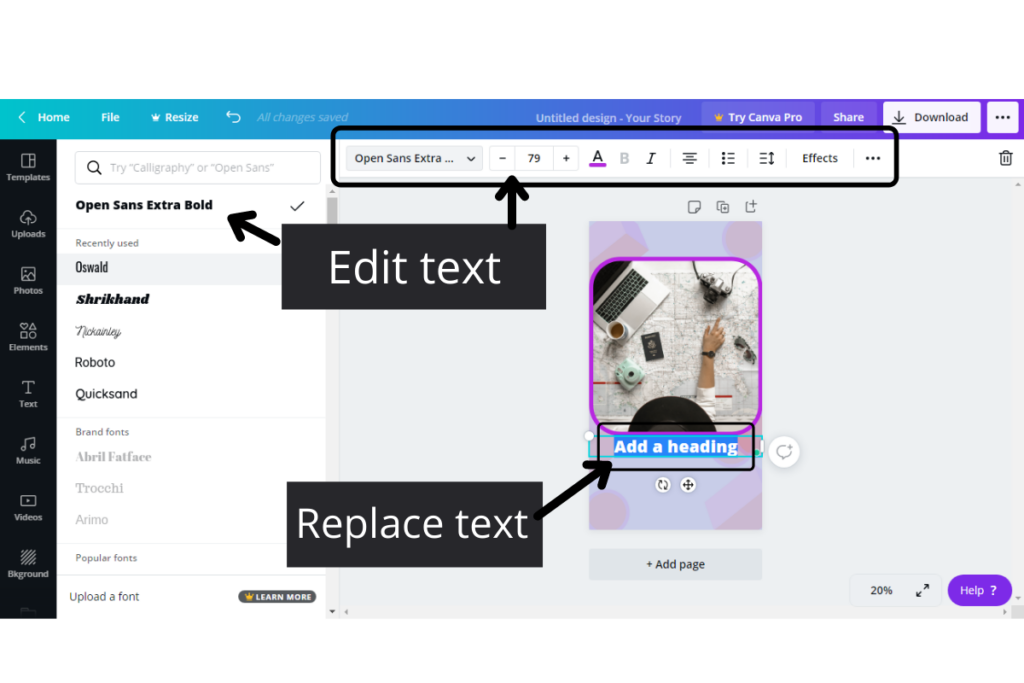 If you want your text to pop a little more add another element behind it. To move elements forward or back on your design click on the position option from the top panel.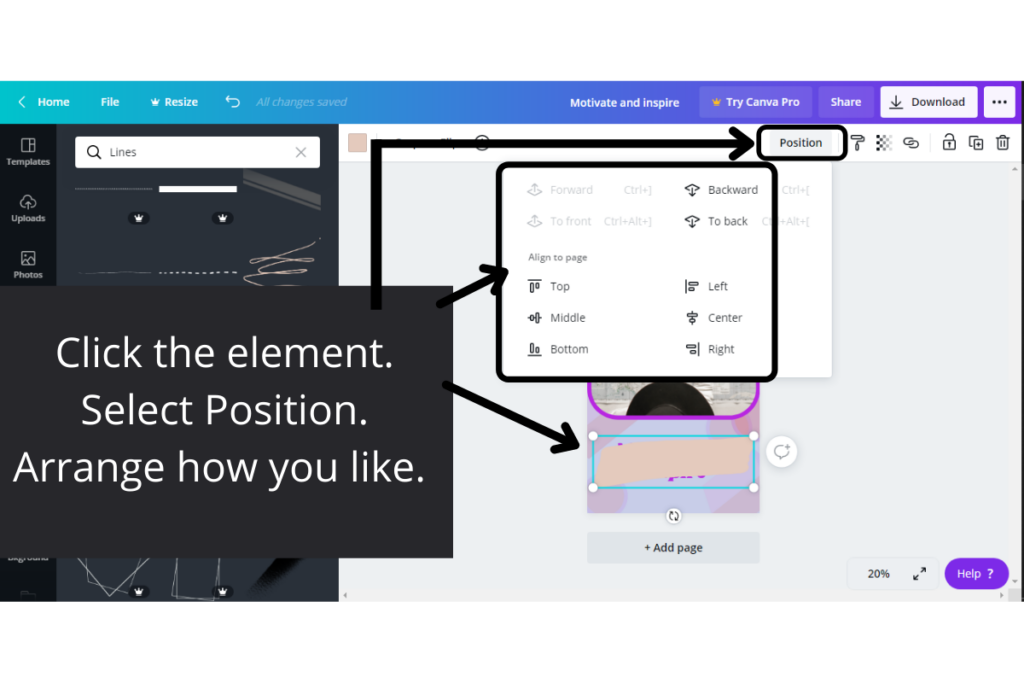 Step 5 – Create your next page
When you are satisfied with your first template move on to the next. Click on the add page option at the bottom of the page. You will see a new page is added using the same background color as your first template. You can also duplicate your page by clicking on the "+" icon above the design, not from the top panel. This will add a new page identical to the one you just created. This can make it easier to edit if you want to keep the background elements on your other template pages.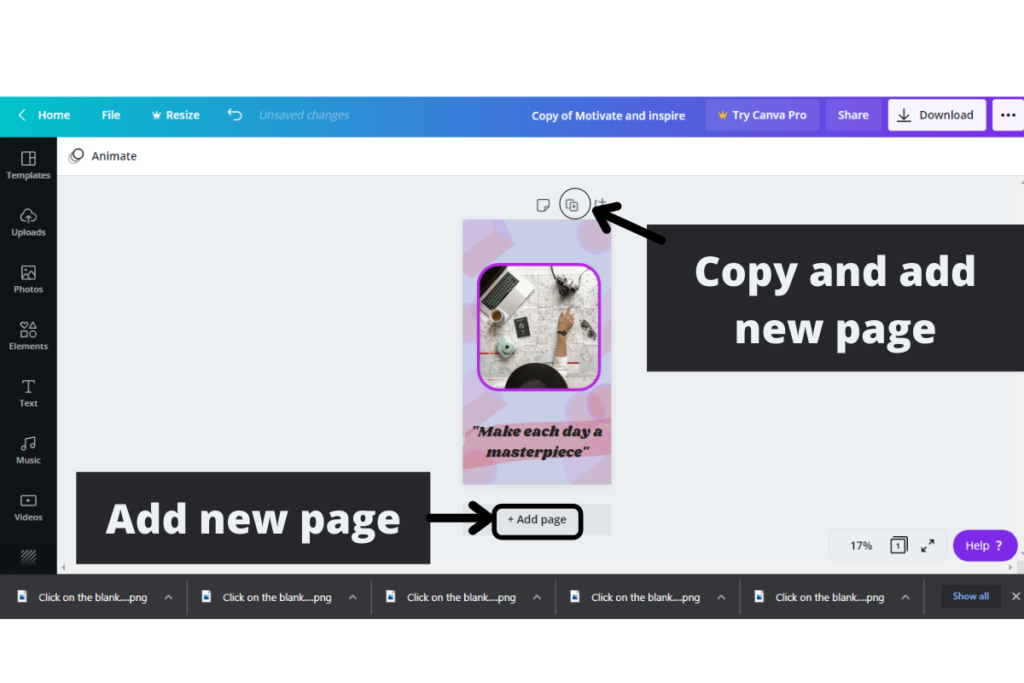 Step 6- Download Files
After you have completed all your templates you can download your files. Click on download from the top panel. If you download all pages together they will save as a zip file on your device.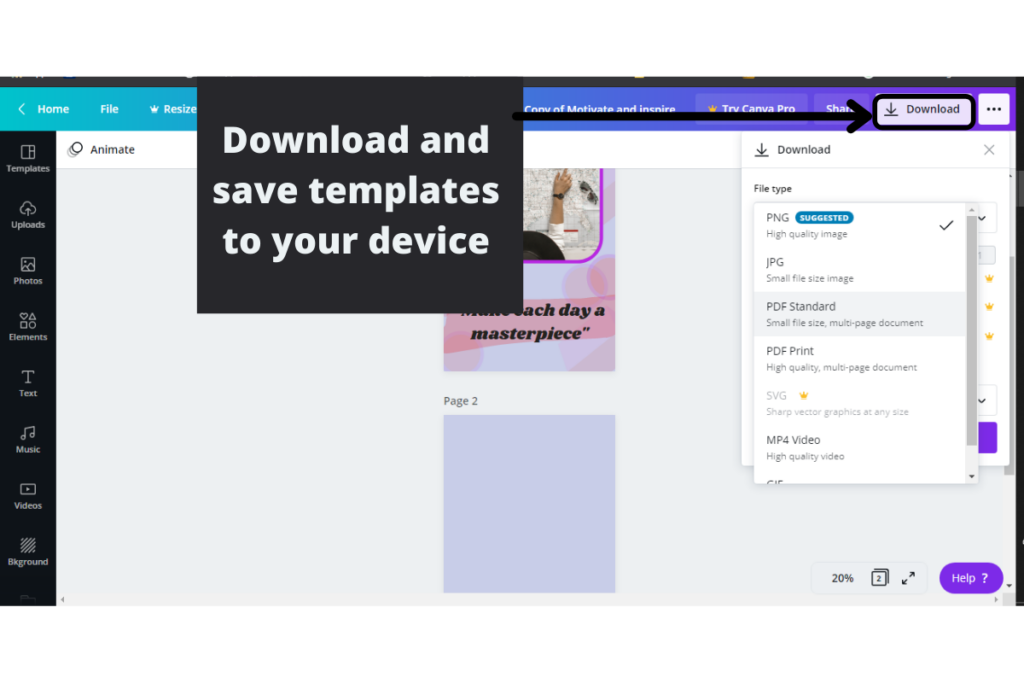 You can decide on the file type when prompted to download your file. Keep in mind that if you insert links such as your website or email address, the file must be downloaded as a .pdf for the links to work. Other file types such as .jpg will disable any links in the file.